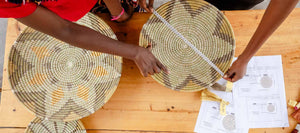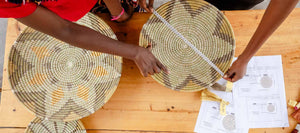 The sets are not customizable, but we do offer each piece individually and you can build a custom from individual pieces.
Our products are designed to meet the styling needs of modern homes.  Designed in California by the KAZI design team, our designs are shared with expert weavers who hand weave each design in small batches using locally-sourced materials native to the regions of Rwanda, Uganda, Ghana and Tanzania.  
We do not offer customization of baskets at this time.
Products are priced according to complexity and materials used.
Orders, Shipping, and Returns
We ship across the United States.
For international shipping, feel free to reach out to hello@kazigoods.comfor more information. 
If you need to make a change or cancel your order, please contact our Customer Service as soon as possible at hello@kazigoods.com.
You can enter your promo code at checkout.  Enter the code exactly as it appears - capitalization counts!  Promo codes can't be used with other promotions and will not apply to sale items unless otherwise specified.
Kazi accepts payments from all major credit cards (Visa, Mastercard and American Express) as well as Paypal, Google Pay and Apple Pay.  We also have payment installments available through Afterpay.
Shipping confirmation emails containing tracking information are sent as soon as your package is shipped.  If you did not receive a shipping confirmation email, please contact our Customer Service at hello@kazigoods.com. 
You may also provide your order number in the live chat to get real time status updates on your order.  The live chat is accessible through the KAZI logo icon in the lower right hand corner of your screen.
We want you to love what we love to make.  Regular priced products purchased on www.kazigoods.com may be returned up to 30 days from delivery.  To be eligible for a return, your item must be unused and in the same condition you received it. Please note that all sale items are final sale and cannot be returned.
If you would like to return eligible items, please send items back to:

KAZI Returns
100 W 35th Street, Suite G
National City, CA 91950

Once we receive your return, a KAZI team member will contact you to let you know that we have issued your refund.

If you received an item as a gift that you wish to return, please email hello@kazigoods.com.  If the gift was shipped directly to you, we will issue you a gift credit for the value of your item(s) once the return is received.  
While we do our best to fulfill all orders accurately, sometimes mistakes happen.  Please send an email to hello@kazigoods.com with your order number and a photo of the incorrect item you received, and a KAZI team member will be in touch with you to get everything resolved. 
We stand behind our artisans' excellent craftsmanship and guarantee its quality.  Please send an email to hello@kazigoods.com with an image showing the damage or defect and a KAZI team member will respond as soon as possible to resolve the issue.
Funds will be returned to your original method of payment 3-7 business days after we receive your return.
KAZI provides return labels for orders that were fulfilled improperly or for products that arrived damaged.  If these circumstances apply to you, please contact hello@kazigoods.com and we will send you a prepaid return label.
Please contact us as soon as possible by either calling our office at (858) 333-8484 or sending an email to hello@kazigoods.com with your order number and we will assist you with your cancellation.  If your order has already been processed we will assist you with a return.
We offer several shipping methods, ranging from ground shipping to overnight options.  You can select your preferred shipping method at checkout.  Please note that there is processing time required prior to shipping, so if you have a strict timeline, please reach out to us at hello@kazigoods.com and we will do everything within our power to assist.
We work with artisans, predominantly women, from Rwanda, Uganda, Ghana, and Tanzania.  We have talented teams of locals working in each country who partner directly with our artisans in remote villages.
Yes, we have a process that includes bringing artisan representatives to the table to negotiate fairly for the artisans' time and energy.  We commit to providing wages that are 6-10x more than what our artisans were previously making.  Our artisans are paid for their work upon completion of each item, long before these products reach shelves and are sold in stores.  
We also have the highest in fair wages and supply chain transparency with a certification called the Nest Seal.  Our parent company, All Across Africa, is one of ten companies globally with the NEST certification and the only one currently on the African continent.  The NEST seal is the highest standard for assessing artisan homeworker production and supply chains and indicates that fair wages are paid, supply chains are adhered to, that there are no children in the workforce and that materials and dyes used are ethically sourced.
If you would like to learn anything further, feel free to read our Fair Trade Statement, view our most recent Impact Report or send an email inquiry to hello@kazigoods.com.
We recommend any products with dye be kept out of direct sunlight to prevent fading. 
Our products are completely safe for dry goods!
If you have a resellers permit and would like to receive wholesale prices, please contact welcome@kazigoods.com and a Kazi team member will assist you with setting up your account. 
At this time we do not accept custom orders.
Yes, our wholesale business offers dropship to select partners that meet our criteria. Please email welcome@kazigoods.com to learn more.
Please send your resume to hello@kazigoods.com and we will be in touch if we have any positions available.
We love working with influencers!  Please reach out to hello@kazigoods.com to tell us a bit more about yourself and what you have in mind.