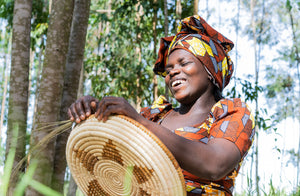 Kazi's QVC Collection:
Ready, Set, Summer!
About the QVC Collection
We've put together a collection of 24 unforgettable woven wall statements and home accessories, exclusively available on QVC. With soft colors perfect for summer décor, this multipurpose collection is designed to bring a unique flair to every room in your home.
Woven Wall Set in Blue
Upgrade an empty wall - or the background to your Zoom calls - with these sophisticated wall statement pieces. Hand woven in Africa, the neutral colors complement any décor from Boho to farmhouse (and everything in between).
Shop on QVC.com
Square Tray
Who doesn't need a handy tray - particularly when it's as beautiful as this one. hand woven in black and neutral it's the perfect catch-all by the front door or an elegant way to keep the remotes handy.
Shop on QVC.com
Shop All 24 Pieces on QVC
Our Purpose
Beautiful Design that Empowers Women & Communities in Africa
Kazi exists to create high demand for expertly woven goods from skilled artisans.
Our work with work with Nest ensures that our wages and practices meet the highest possible standards, evolving with the global marketplace in real time.
The fair wage we provide increases income ten-fold in many cases, which then filters into local economies and communities.
The results: Skilled African Women Weave Our Creations and Forever Change Their Worlds.