MEANING AND PURPOSE
Each basket tells a story. The stories of the Rwandan women who have intricately handcrafted these baskets from sweet grass and the leaves of the agave sisal plant. The intricate designs and flawless work of an experienced weaver is never the result of luck. Rather, Rwandan women owe their skills to the women before them who passed on the knowledge from generation to generation—mother to daughter, grandmother to child. Each piece is unique, culturally and traditionally inspired, and handwoven in intimate Rwandan communities. With differing patterns and colors, one or more of these baskets will make a globally conscious and stylistic addition to your home.
Our 12" basket can be used as a produce bowl, centerpiece, or even a place to display books on your coffee table. Meaningfully and purposefully designed, each basket has a woven loop that allows you to hang it up on the wall as a decorative piece.
Design
Hope
The sunburst pattern on these baskets is known as the "hope" design. Reflected on the Rwandan flag, this sunburst image stands for the country's collective hope for a new dawn and brighter future.
This design means a lot to the weavers we partner with, as each basket they sell increases their chances for a better life. Quality of life, community status, self-worth and confidence are just a few of the hopeful effects these baskets bring. With the income the weavers receive, they are able to open bank accounts, start businesses and even hire other workers.
The effect from the production and income of basket weaving ripples through the country bringing hope for a better future far and wide.
Specifications
Approximately 14" D x 4.5" H
Made of all natural fibers of sisal and sweet grass
Made in Rwanda
Fair trade
Organic dyes
Profiled weaver tag is attached to each product
Basket has a hang loop on the back for wall decor
Safe to use with food
Care instructions: If necessary, use damp cloth to wipe the basket clean. Do not submerge or wash with water.
*All products are made by hand with love and vary slightly in color and size. See our Guarantee of Quality for more information.
Customer Reviews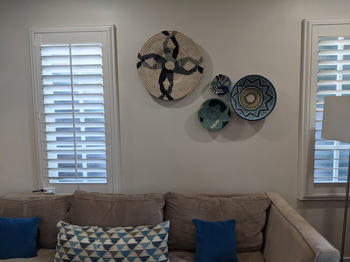 10/17/2021
I recommend this product
Even better in person
I bought the Silver Blue/Navy Round Basket along with 3 other baskets to hang on our wall in the family room. They look unique and beautiful and are of very high quality. The colors are vibrant and classy. I'm very happy with my purchase.
Kristi Y.

United States
05/11/2021
I recommend this product
Even more beautiful than I imagined
I bought this basket to hang on a sea grass wall. It was all the colors I wanted and I knew it would be perfect. What I didn't know is how high quality it is! This basket is absolutely gorgeous! The colors are even brighter in person and it weighs 3 times what other baskets this same size weigh. I'm in love. I even order a couple more from Kazi to go with it because it quality was so great.
Tracee L.

United States